Central African Republic protesters lay corpses at UN's door after clashes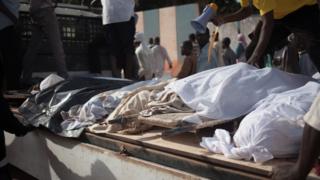 Protesters have put at least 16 corpses in front of the headquarters of the UN in the Central African Republic (CAR).
They called for an end to violence, saying the corpses were of civilians killed on Tuesday in clashes between UN troops and armed groups in a neighbourhood of the capital, Bangui.
The UN mission in CAR has not yet commented on the protest.
Its troops began an operation on Sunday to disarm vigilantes in the PK5 neighbourhood of the capital Bangui.
A self-styled Muslim militia is based there,…
*** This news item is 3rd party content and is included strictly for non-commercial informational purposes.

Comments
comments